Take a Class
Your space to create with Paintclub
Since the very beginning, back when Paintclub was being hosted in bars 
and restaurants throughout Ireland, 
our mission has been to make creativity accessible to the masses.
To us, achieving this mission means giving you a way to access our platform wherever you are, and whenever you want to create – which is why we've developed FOUR ways for you to join and engage with Paintclub.
Each of these is powered by our team of experienced, qualified artists, who have designed bespoke programmes where you'll get to learn, create and have fun, in whichever way suits you best.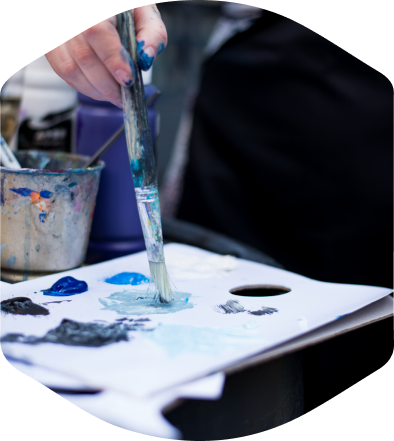 Access Paintclub in a way that works for you
How it works?
To help you pick which session you want to attend, we've created a little bio for each masterpiece. Here you'll find everything you need to know about the painting, what you need to bring and even which one of our amazing artists is hosting the event.
To make your decision making process even easier, we've also included an easy to follow rating system. Each event comes with a category icon, letting you know what type of painting it is, as well as a recommended skill rating;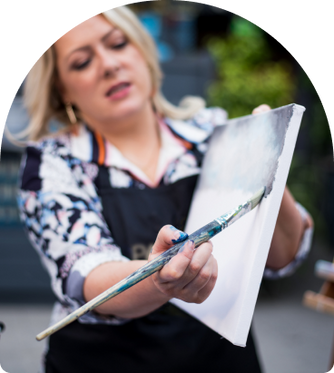 FAQ's
I've never painted before, what if I'm no good?
Paintclub is designed for everyone, whether you're a master artist or you've never picked up a paintbrush – no experience is required! We're simply here to have fun and give painting a go with the support of an experienced instructor.
What's included in my ticket?
- For Paintclub Livestream and On Demand events, your ticket price includes access to the event link and a list of required supplies – these can be purchased at an additional cost via our website, or you can use your own. You'll also be given access to the class chat, where you can get extra pointers and share your masterpiece after the class has ended. 
- For Paintclub Social events, your ticket price includes two hours of step-by-step instruction from a qualified Paintclub artist, one stretched canvas, acrylic paint, the use of a table easel, paintbrushes, apron and all other supplies required to complete your masterpiece.
Do I need to start a Paintclub membership?
While we do offer discounts and special offers to our members, you don't need to sign up in order to attend an event – simply purchase individual tickets as and when you please.  
Do Paintclub Social events include food and drink?
This varies depending on the event and venue, please check individual event listings for specific details.
How do I book a place?
- All tickets to our Paintclub events must be pre-booked online via our website, no tickets are available on the door at our events*.
*Please note, tickets are non-refundable and non-transferrable to another event, although you can sell your ticket to another person if you wish, please just let us know so we can amend our guest list.
Corporate & Private Events
In recent years we've had the pleasure of partnering with some of the world's best loved, and well known, companies including Linkedin, Google, Pfizer, Facebook, Docusign, Accenture and Coca-Cola.
Learn more
"Thanks again for such a fun and interactive Paintclub session, it was a something new and enjoyed by everyone. It was an ease to organise such a large event, we can't wait to have you back."