my Paintclub
Get rewarded with special access to events, classes, rewards and discounts
Join our online community today and paint your heart out with Paintclub On Demand, as well as early bird access to classes, special events, rewards and discounts.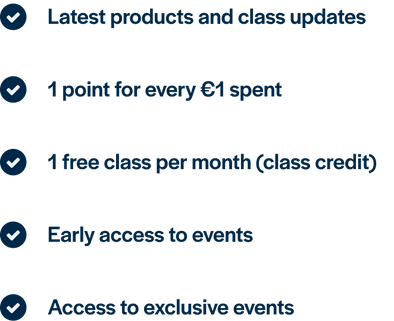 How it works
Sign up for the free version of myPaintclub today and start earning points for every €1 spent. Once you've earned enough you can then redeem these points against class tickets, supplies and even merchandise.
Want to take your Paintclub experience to the next level? Then why not sign up for myPaintclub Plus, where you can earn class credits, early access to classes and exclusive invitations to events – all for only €10 a month.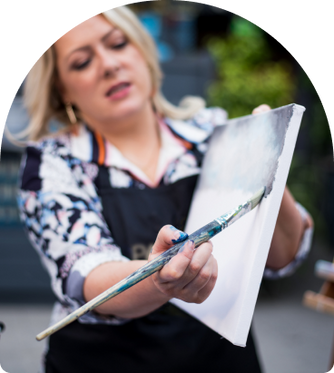 Meet our hosts
Aisling Kearney Burke
Our founder and CEO Aisling has a lifelong love affair with creating, painting and teaching. Leading with her heart, and driven by unending ambition she has grown Paintclub from a small, local event business to a company that delivers  creativity to the world. 
A graduate of LSAD, Aisling's approachable and talkative nature makes for relaxed, calming Paintclub sessions featuring any, and every, type of paint. 
Sinead McCarthy
You may recognise Sinead, our born and bred in Cork gal, from national television as a finalist on 'Painting the Nation', but we know her more fondly as our calm in the storm – bringing her down to earth attitude to every Paintclub session. 
A graduate of Crawford College of Art & Design, Sinead loves every type of medium you can create with, although she has a particular preference for watercolour and pencil.
Lorraine O'Neill
Our resident sculptor Lorraine has a flair for experimentation and is known for her quirky methods of creation, from making use of household objects to capturing unique and unusual perspectives.
A graduate of Fine Art from GMIT, Lorraine brings her infectious energy and party animal personality to each and every one of her sessions.
Diane Keating
With a passion for vibrant colours and bold textures, Diane has grown as an artist by exploring the world, using everything she learns along the way to inform her own creative practice. 

A graduate of Crawford College of Art, Diane's excitement and dedication to creativity has quickly made her the heart and compass for Paintclub, while also being the 'techy' one behind the scenes.
What our Paintclubbers think
"It's rekindled my love of art."
"Thank you for having such a fun, accessible and welcoming community."
"I have always had an interest in learning to paint but I am a naturally introverted person and would be too shy, doubtful of my abilities and self conscious to attend classes. Being able to take part at home, at my own speed has really built my self confidence and I've even shared a few paintings in private groups now, something I couldn't do at the start."
"Finding painting classes/lessons that can be worked around my lifestyle and schedule has been a revelation!"
myPaintclubber at Home
Join our online Facebook community to share your latest masterpieces, ask questions and connect with other Paintclubbers.
Join now
Covid Restrictions
Please note, all Paintclub Social events are dependent on government guidelines. For more information, please just drop us an email.